Original post from Omaha.com: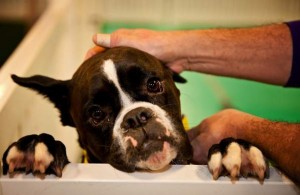 Ever wonder what your pets do while you're away?
If they're spending the day at the Paw Spa Pet Resort at 168th and Harrison Streets, they could be swimming, watching TV or lounging in an oversize kennel.
The new high-end pet day care and boarding facility opened last month in Harrison Village Plaza. Co-owner Kevin Irish calls it "pet care with panache," and says it's unlike anything else in the area.
The venture is the latest for Irish, a local businessman whose career has included significant professional success but also humbling personal lows.
The former pharmacist and real estate developer once owned CBS Real Estate (later merged into CBSHome), spearheaded the construction of a number of metro-area subdivisions, helped redevelop the Old Market and served on the Metropolitan Entertainment and Convention Authority board.
But a series of drunken-driving incidents derailed that career. He stepped down from the MECA board after his second arrest. His fifth arrest in 2008 resulted in him serving 15 months of jail time, half of a 30-month sentence that also included revocation of his driver's license for 15 years.
He was released in 2010 after serving 469 days.
"I'm not ashamed of it," Irish said. "I give talks weekly — to church groups, Rotary Clubs, school groups — about my experiences. I want to set a good example for those struggling with addiction."
Irish, 57, said he spent a good deal of his time behind bars working on business plans that would help him reintegrate into daily life. He studied to have his pharmacy license successfully reinstated as well.
"I wanted to have something ready so that when I was released, I'd be ready to slide in and grow," he said. "In jail, there's nothing that really helps — you put your life on pause. There are no programs that help you learn anything.
"So I took that opportunity to reflect upon what I needed to do to change. I decided to use my business acumen and my love of pets and start something new."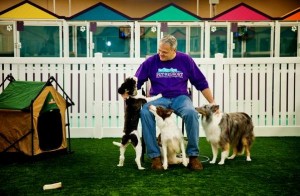 First, Irish and co-owner Sheila Kusmierski opened the Mobile Paw Spa, a pet-grooming facility on wheels, in 2011. The pet day care followed at the end of 2012.
The twin businesses are poised to take advantage of a portion of the $50 billion-plus pet care industry in the U.S. An estimated $4 billion of that total is spent on boarding and grooming.
Those trends, combined with the demographics of the area, made Irish confident that it was the right place for the business.
"We felt like we were right in the middle of doggieville," he said. "With the neighborhoods and some of the amenities that are nearby, we feel like we're right in the middle of a heavy dog population."
Irish himself lives less than a mile away, eliminating most transportation issues. If he needs to go farther, he said, "I have a huge network of people who can help out."
The ventures also have allowed Irish to turn back the clock on a long-ago college decision. Irish was accepted into veterinary and pharmacy schools, but chose pharmacy and completed his degree at the University of Nebraska Medical Center.
"I kind of always wished I'd gone the vet route," he said. "I didn't want to go back to veterinary school, but this allows me to do the next closest thing — I still get to take care of pets."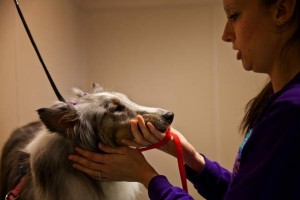 The privately financed $2.3 million pet spa in Sarpy County features space to pamper more than 100 dogs and a dozen cats. The 12,000-square-foot building offers state-of-the-art play areas with drainage systems, homemade gourmet treats, a swimming pool for dogs and two grooming salons. And the play cam allows owners to watch their pets at play on their computers or smartphones.
Each dog kennel is about 6 feet by 9 feet and includes a Kuranda-brand bed and a small TV to provide some background noise. Each kennel's door has a revolving food-and-water tray. Some kennels can be combined so dogs from the same family can stay together.
The bone-shaped pool is 20 inches deep and is kept between 80 and 85 degrees. The fenced indoor and outdoor play areas feature artificial grass similar to FieldTurf athletic surfaces. All playtime is supervised, and dogs of the same size are kept together. Dogs who don't play well in groups play while the others rest. "Just because they're nervous or aggressive doesn't mean they shouldn't get playtime," Irish said.
Casey Winchel, an electrician who dropped off his two boxers last week, likes the staff's philosophy.
"It definitely has some features a lot of other day cares don't offer," Winchel said. The amenities and location make it a good choice for his dogs.
"I'll probably utilize their services once or twice a week," he said. "When we get home, the dogs are tired and happy. I can tell they enjoyed themselves."
For cats, the Kitty City area includes three-room "condos," where cats have their own spaces to themselves. Playtime is in the Catio, a large, carpet-covered jungle gym.
The facility is staffed 24 hours a day for overnight stays and has veterinary staff on call.
Each pet gets a special collar, on which is printed its name, its owner's name and any other information such as medications, behavior notes or feeding idiosyncrasies.
"We want to offer a different experience," Irish said. "When we say resort, we mean it."
Irish hopes the Paw Spa mirrors the success of his mobile pet grooming service. Since opening, the Mobile Paw Spa has groomed more than 4,000 dogs across the metro. On a recent day in December, the two facilities completed 24 grooms. Combined, they have 12 employees.
Seeing his new ventures take off has given Irish confidence that he can continue his turnaround.
"There is life on the other side of this," Irish said. Now sober for four years, he said he attends regular Alcoholics Anonymous meetings and stays active in his church.
"Being successful has gotten me into other arenas where I'm able to help people going through the same thing," he said. "We see a lot of rescue dogs in here. Maybe I'm a rescue dog, too."